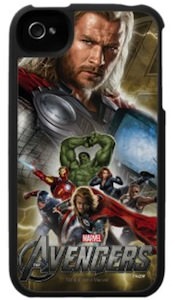 The Avengers are here and now you can have an amazing iPhone case with all of them on it in their action pose.
Thor is the main hero on this case but The Hulk, Iron Man, Black Widow, Captain America and Hawkeye are there to. And of course a Avengers product would not be the same with out the Marvel The Avengers logo.
This case is made for the iPhone 4 and iPhone 4S and is made by Speck this means that your phone will be save and protected by a quality case.
And with Thor and his hammer this case can only be safer.
Come check out this Marvel The Avengers Thor Group iPhone 4S Case.