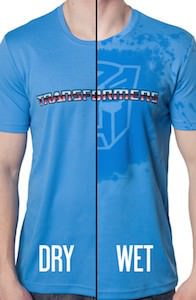 This Transformers t-shirt looks pretty plain at first sight but it gets better when it gets wet.
This is a light blue t-shirt with on it the Transformers logo witch is pretty plain but then when you start to sweat or get wet in a different way then the Autobot logo will appear.
Just imagine your friends expression when they see you get wetter and wetter when working out or maybe in a water gun fight.
And yes this Transformers Autobot t-shirt makes you look super cool specially when you are completely wet.
You can get this T-Shirt in sizes Small – 3XL.
Get ready to get wet while wearing this Transformers Autobot Logo T-Shirt.