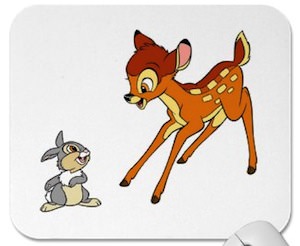 This is a sweet and white mousepad but it is also super cute because of the animals on them.
There is a little rabbit and a little deer of course we all know them as Thumper and Bambi from the famous Diseny movie.
A mousepad is something we all seem to use and why have a boring one when you can have one that has two adorable animals on them.
So this one has a nice scene with Thumper and Bambi both happy and smiling, maybe they are discussing the nice work you are doing on your computer.
And this is a quality mousepad with a nonslip back so that you can work, game or just surf without having to worry about what is going on with your mousepad.
Come and check out this Bambi And Thumper Mousepad.