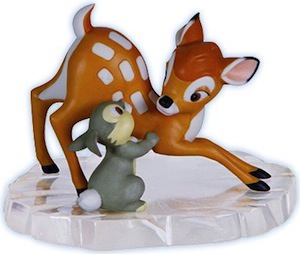 This is a amazingly detailed Bambi figurine made by Precious Moments and it's called "A Friend Helps You Get Back On Your Feet".
Based on the famous scene when Bambi keeps sliding on the ice not knowing what is happening and then she gets back on her feet  with Thumper's help.
This figurine is 3 1/4″ high and made from bisque porcelain/glass and will last a life time.
A Bambi figurine is just a must have as these animals are so cute to watch.
Come and have a better look at this Bambi And Thumper Precious Moments Figurine.