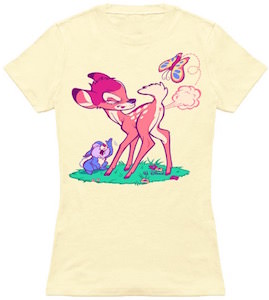 We all know Bambi the cute baby dear and her rabbit friend Thumper and if you seen the movie then you know about the famous scene where the butterfly goes sit on the tail of Bambi.
This t-shirt shows what really happened when the butterfly went to sit on the tail.
Yes Bambi farted scaring away the butterfly and making Thumper laugh.
And this fun scene is available on this t-shirt and it comes in men, women's and of course kids versions in a bunch of colors and many sizes .
If you want to show the world that even cute animals fart then you have to get this Bambi A Fart In The Woods T-Shirt.