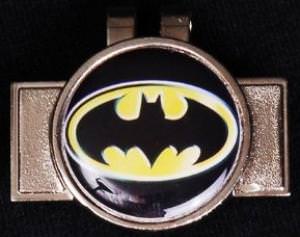 Never loose where your ball is marked when you mark it with the classic DC Comics bat symbol.
This is a golf ball marker that has the ever popular symbol from the superhero Batman, find a black bat with a yellow background making your ball mark unmistakable.
A really cool feature about this golf ball marker is it comes on a hat clip so you can easily clip it on your hat and when you are ready to mark your ball just slip out the bat symbol.
Made to be very durable from solid 1 inch in diameter genuine metal this Batman bat symbol golf ball marker will last many rounds of golf, the bat symbol marker is fastened by a strong magnet.
Try out the Batman Hat Clip Golf Ball Marker.