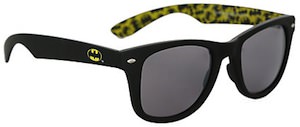 Summer or winter the season does not matter we need sunglasses to keep the harmful UV out of our eyes.
Now you can do that with some Batman sunglasses.
These sunglasses are mainly black on the outside, you just find a small Batman logo on the side arms but on the inside of those arms the color becomes mainly yellow with a bunch of Batman logo's.
All this makes them great everyday sunglasses that don't really scream Batman until you take them off.
Get ready for the sun with these Batman Sunglasses.