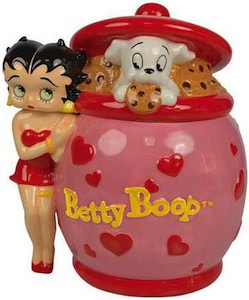 Cookies are yummy and i read somewhere that people need to store cookies. I don't have that problem i just eat them really quick.
But if you need a place to store you cookies then look at this Betty Boop cookie jar.
It is a big 11 inch tall jar with Betty Boop standing next to it and the words "Betty Boop" together with lots of hearts printed on it.
The the top of the cookie jar looks like cookies are pooring out and Pudgy is eating some. Betty's dog Pudgy loves cookies so maybe you should keep him away from your cookie jar.
Now is the time to come check out this Betty Boop Heart Deco Cookie Jar.