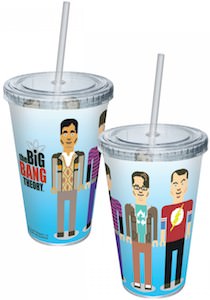 This travel cup is based on The Big Bang Theory and shows that logo besides 4 boys that looks a bit pixalated.
OK these boys are Sheldon, Leonard, Howard and Rajesh all in the clothes we know and love.
So now you can take you drink everywhere in a cup that has The Big Bang Theory all over it.
The cup has a screw top with a straw and double walled so that you drink stays at the right temperature and you won't feel it.
No more paper cups for you because this cup is just to geeky so you should use it exclusively.
Come and get your own The Big Bang Theory Cup With Straw.