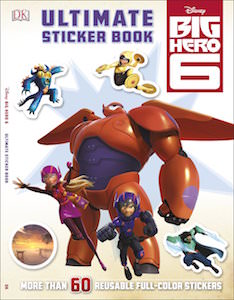 Is Big Hero 6 you kids newest favorite movie?
If so then they will love this sticker book that has more then 60 reusable stickers in it from all the mayor characters.
Kids are gone love to play with the stickers making fun stories and adventures with their favorite characters and yes of course Baymax and Hiro are there and so are all their friends so let you kids imagination go and let them make the perfect Big Hero 6 adventures they dream about.
This may not be a big book but it still offers pages full of full color stickers and that is what it's all about.
Come take a closer look at this Big Hero 6 Sticker Book.