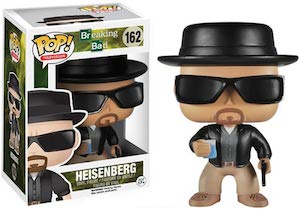 Heisenberg is the drug lord feared by many but one that is actually the ex school teacher Walter White.
But you can now own your own little version of Heisenberg.
This Breaking Bad figurine shows Walter all dress up with dark glasses and his famous hat and he is holding some of his famous blue meth and a gun so watch out.
This Heisenberg figurine is made by Funko in their Pop! Vinyl series and like all the others Heisenberg is 3 3/4 inch tall and he will be delivered in a cool display box that you can use to keep him in new condition.
Of course making Heisenberg sell his drugs to all your other friendly figurines may not be a smart thing lets just hope that your other figurine's are smart enough to stay away from drugs.
Bring Breaking Bad to your home with this Breaking Bad Heisenberg Pop! Vinyl Figurine.