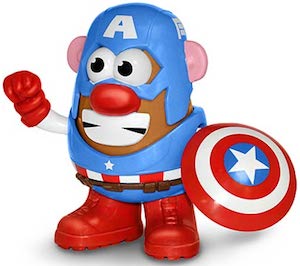 There is Captain America but then as Mr. Potato Head. Steve Rogers looks like he always does but then a bit more like a spud.
Blue clothes and helmet and red gloves and boots that is what Captain America is wearing and yes of course he brought his shield to.
Mr. Potato Head toys are fun and you can use parts for other Mr. Potato Heads to make the super spud.
This Captain America figure stands about 6 inch tall and looks funny and great.
Just imagine having Steve Rogers looking at you as the Marvel Superhero he is but then now as a Potato.
Have fun and start playing with this Marvel Captain America Mr. Potato Head.