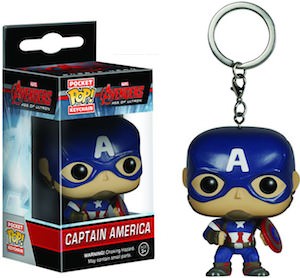 If you want to know how it feels to have a superhero in your pocket then you just need this key chain of Captain America.
This key chain is from the Funko Pocket Pop! Series and just looks great.
Captain America is about 1 1/2 inch tall and is based on the Avengers: Age Of Ultron Movie.
And of course Captain America brought his shield and is ready for some action.
The Captain America key chain has a loop and a clip so that besides holding your keys you can use it for other tasks as well. Maybe Captain America can become a zipper pull or just decoration on you school bag. And if you just want to see this little superhero then you can also just leave him in his windowed box.
Come a take a closer look at this Avengers: Age Of Ultron Captain America Pocket Pop! Key Chain.