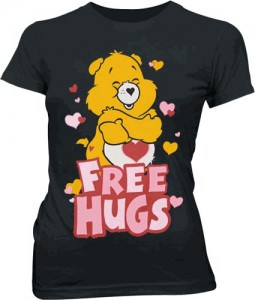 Are you having a bad day? Well this is the best way to cheer up … Free Hugs!
This is a great, fun and cute t-shirt that features one of the most popular Care Bears Tenderheart. On the front of this t-shirt find Tenderheart with the official Tenderheart symbol of a red heart found on the Care Bears belly, along with multiple hearts surrounding Tenderheart and the words printed FREE HUGS.
The Free Hugs Tenderheart t-shirt is made from 100% cotton and is very durable as well as super comfortable, it is also available in many sizes and is a juniors fit which is made to hug the bodies curves.
Have a free hug with the Care Bears Tenderheart Free Hugs Black T-shirt.