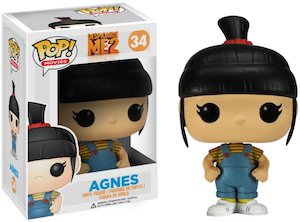 Agnes is the cute little sister from the Despicable Me movies. And now you can have your own Agnes figurine that can be with you all the time.
This figurine is based on the Despicable Me 2 movie and shows Agnes in her typical clothes with her arms stern on her side.
This Despicable Me figure is made from vinyl and stands 3.75 inch tall and makes a great collectors piece.
Just looking at this figurine makes me think about fluffy unicorns and yellow Minions.
It will be so much fun having Agnes standing on your desk or maybe the bookshelf. She will for sure bring a smile on your face when ever you look at her.
So let's not wait any longer, get your own Despicable Me Agnes Vinyl Figurine.