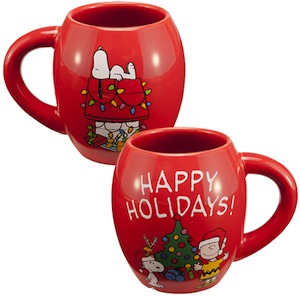 Christmas is the time of year that we all think back of the Peanuts Christmas stories.
And this year we can enjoy it even more as there now is a nice red Peanuts mug.
On one side of the mug you see Snoopy taking a nap ontop of his decorated dog house and there are lots of presents under it to.
And on the other side of the mug you see a Christmas tree and Charlie Brown and Snoopy both wearing Santa hats and Woodstock wearing antlers, it also says in big letters "Happy Holidays!".
So with  a scene like that on a coffee mug your Christmas just has to be great. The mug is ceramic and red and dishwasher and microwave safe.
This Christmas mug is great for at home or the office and it will bring the holiday spirit where ever you take it.
Come and start enjoying this Peanuts Charlie Brown And Snoopy Christmas Mug.