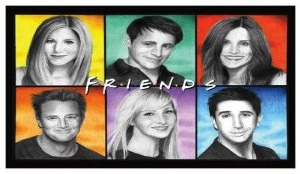 If you want something to remind you of that amazing TV show Friends then this could be the item you have bin waiting for.
This magnet shows all the character you loved so much for many years.
They are all  there Chandler, Rachel, Monica, Phoebe, Ross and of course Joey.
Each has their own spot on the magnet and all are drawings of the characters and of course the magnet has the typical Friends logo on their to.
The Friends magnet is 3 1/2 x 2 inch and would look amazing on your fridge or locker.
Come and have a closer look at this Friends Cast Fridge Magnet.