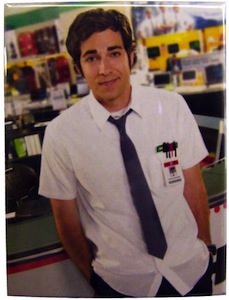 There we have our favorite Nerd Herder from the Buy More.
He is called Chuck Bartowski and has some strange thing happening to him the last while.
This is a fridge magnet of Chuck posing specially for you.
But be carefull with this magnet because if you are a spy or something then he may flash on you when he noticing you.
Any way this magnet is fun and shows our favorite TV character Chuck Bartowski.
Go buy you own Chuck Bartowski Magnet.