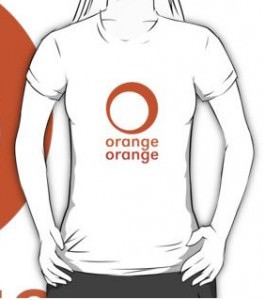 Do you miss Chuck in your life? Are you craving some frozen yogurt? This just might be the t-shirt to wear on your way to get some of the cold yummy goodness. Mmmmmm.
This t-shirt is simply the Orange Orange frozen yogurt shop logo from the television show Chuck. It has the orange circle and "Orange Orange" underneath each other below the circle.
There are a number of different color backgrounds to choose for this t-shirt and a range of styles and sizes. Sizes range from Small to Double Extra Large.
Only fellow Chuck fans will nod and appreciate your Chuck Orange Orange Logo T-Shirt.