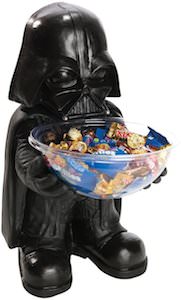 Who better to hand out your candy to the trick or treaters on Halloween night then the powerful Darth Vader.
Well this cool Star Wars Darth Vader candy bowl holder can stand at the door and hold your candy for you on Halloween night or you if are throwing a Star Wars themed party your can fill his bowl up with chips of crackers for your guest.
This awesome Stars Wars Darth Vader bowl holder is in the shape of Darth Vader himself with his hands out holding a big bowl.
You will feel the force when you eat a chip or candy from this cool Star Wars Darth Vader Bowl Holder.