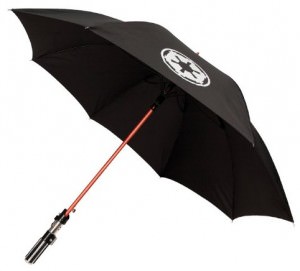 Even the dark lord himself needs some shelter from the rain, and why not have your lightsaber handy at the same time.
This is a really cool umbrella that is based after Darth Vader from the sci-fi Star Wars movies, it is all black with a white emblem of the Galactic Empire printed on the top, the handle looks just like Darth Vader's red lightsaber with all the right details.
The canopy of the umbrella is made from durable 100% nylon and the handle is also made to be durable and last through all the rain storms.
Sheild away the rain with the Star Wars Darth Vader Red Lightsaber Umbrella.