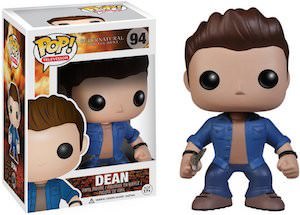 Many Supernatural fans would love that have Dean hanging around with them and keeping them save when he flirts with them.
Of course we all know that the Winchester brothers are a bit busy but you are in luck as there now is a little version of Dean that anyone can own.
This figurine of Dean Winchester is number 94 in the Pop! Vinyl series made by Funko. Dean is 3 3/4 inch tall and has all the features you expect from Dean and he even brought Ruby's knife so that he can kill some demons if they come to close to you.
Supernatural I would not wait any longer and just come to check out this Supernatural Dean Winchester Pop! Vinyl Figurine.
You may also like: