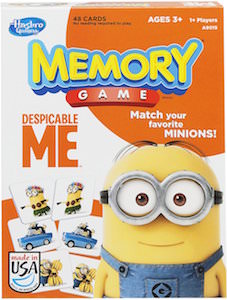 Memory is that fun game from Hasbro that you have to find the matching cards. It's a great way for kids to learn and fun for adults to as it keeps the brain active.
And now there is a special Despicable Me version of Memory and it's all about matching Minions and other characters from the Despicable Me series of movies.
This board game is made for ages 3 and up and does not need you to read just try to find matching parts of Minions and you are good to go.
In the Despicable Me Memory game there are 48 sturdy cards that will be the source for hours of fun.
Need a fun gift for a kid? This game can be fun and good to stimulate the brain.
Come and order your Despicable Me Minion Memory Game.