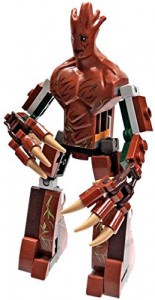 As if Groot from the awesome movie Guardians of the Galaxy wasn't cool enough, now you will be saying "I Am LEGO Groot".
This action figure features all of the attributes that you find in Groot done with everyones favorite building blocks LEGO, still looking like the tree like superhero with the stump torso and head, long claw and root like hands all standing up and ready to guard.
The Groot LEGO action figure has classic LEGO pieces making it easy to mix and match with other LEGO superheroes or pieces, this is a great gift for the Guardians of the Galaxy fan.
Reenact your favorite scenes with this Guardians Of The Galaxy Groot Lego Action Figure.