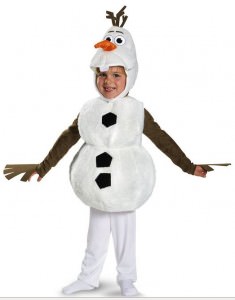 Your little one will be happy little snowman with this Disney Frozen Olaf costume.
This adorable costume has a bodysuit with white legs and brown arms to represent the tree branches.
The outer part of the Olaf costume is a puffy and plush suit that looks like two snowballs with its black "buttons". The headpiece looks just like Olaf with his large eyes, twig hair, carrot nose and big front tooth.
This cute Olaf deluxe costume is perfect for halloween and comes in toddler sizes XS (12 – 18 months) to toddler L (4 – 6).
This is one snowman that will keep all its parts in the right places even if your child sneezes.
You will get lots of warm hugs when you buy this Disney Frozen Olaf Deluxe kids Costume.