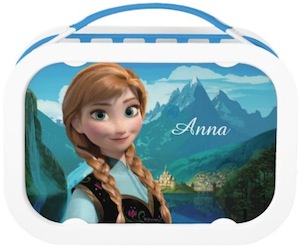 If your kids love Frozen then this is the lunch box for them.
Not only will they love it you will to. This lunch box and all it's accessories can be put in the dishwasher (except the face plate) so that it's easy on the parents to.
The lunch box has Ann from Frozen on the front with the empire in the back and the one on the picture also has the name "Anna" printed on it and yours could have your name if you want (no extra charge).
Beside being a pretty lunch box you will find that there is an icepack, sandwich container and two smaller containers inside all to keep the lunch perfect for the kids.
Come and take a closer look at this Frozen Princess Anna Lunch Box.