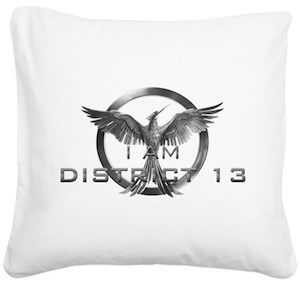 A true fan of Katniss and The Hunger Games of course would love to own a special Hunger Games pillow.
And now you can own a The Hunger Games pillow.
This white throw pillow is 20 inch x 20 inch and shows the new Mockingjay with the text "I Am District 13" and this all in a chrome look so no flames and fire on this Hunger Games product.
And this Mockingjay pillow is great for bed, couch, chair or just a random cuddle and maybe even a pillow fight.
Support the rebels by getting your own The Hunger Games I am District 13 Pillow With Mockingjay.