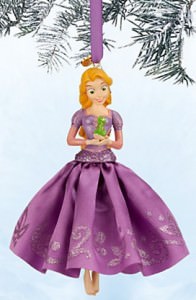 If you are looking for the perfect, elegant Christmas tree ornament here is a wonderful Rapunzel and Pascal one.
Featured here is a Christmas tree ornament that looks just like Rapunzel from the hit Disney animated movie Tangled, find her in the long purple dress and holding her best friend Pascal the little green lizard. There is also a really nice matching satin purple ribbon used to hang on the tree.
This beautiful Rapunzel and Pascal ornament is part of the Disney Sketchbook collection it is crafted with the most intricate details to really bring the ornament off the movie screen and on to your tree.
Lighten up your Christmas tree with Disney Tangled Rapunzel And Pascal Ornament.