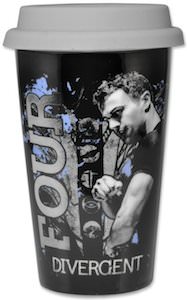 Stop wasting paper cups get your own travel mug!
This travel mug is based on Four (Tobias) from the book and movie Divergent.
On the outside the mug is kinda black but shows a picture of Tobias and the words "Four" and "Divergent" and then you can see the symbols from the fractions to just like the tattoo's that Four has.
This Divergent travel mug is ceramic and can hold 12oz of liquid and has a silicone lid and the mug is double walled to keep you drink warm and hands cool. And you can even use this mug in the microwave and dishwasher witch makes it even more versatile.
After all that text I am ready for some coffee out of my new Divergent Four Travel Mug.