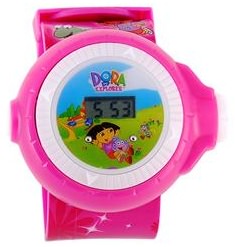 Now you little one will wear a watch because this is a Dora watch.
And not only does it show Dora and Boots on the watch face it also has Dora and her friends printed on the watch band.
Besides being a fun little watch for kids this is more.
This Dora the Explorer watch has a build in projector that wil show a picture of Dora on a light surface (best to see in a dark environment).
If you like to give your kid a watch then I will tell you this one is cheap (less then $5 dollars) and comes shiped to you for free.
Time to order your kids Dora The Explorer Projector Watch.