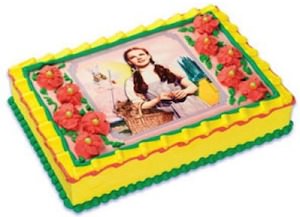 The Wizard of Oz birhtday cake you always dreamed about can finally become true.
With this cake topper image any cake can become a Dorothy cake.
The image is just peel and stick and fits in perfectly with the iceing on your cake.
Now you can make a standard store cake or you own baked cake in to the Wizard of Oz cake.
And the image is edible so it really is part of you cake.
Get ready to bake and decorate with this The Wizard Of Oz Dorothy Edible Cake Topper Image.