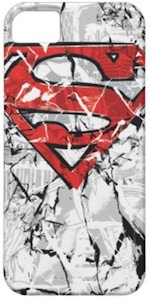 Are you the Superman fan that has an iPhone 5 without a case?
If so then you should check out this case.
This case made by Case-Mate will protect your iPhone from harm while making it look more fun.
And sure it keeps all you buttons and ports of you iPhone 5 ready to use without the need of removing the plastic shell.
On the case you see and crumpled up cartoon in black and white and on top of that your find a red Superman logo and of course that stands out nicely on the black and white background.
The design is not just limited to the back no it keeps going on the sides to.
Get Superman on your iPhone with this Superman Red Logo iPhone 5 Case.