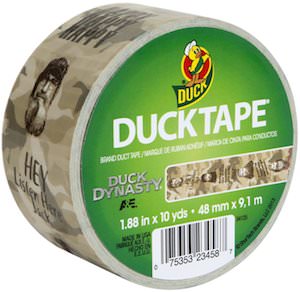 What do you use to fixes about anything around the house?
I use Duck tape as it works on about anything.
But the grey Duck tape is a bit boring so now I found this Duck Dynasty Duck tape with some funny things the Duck Dynasty people say and there are even pictures of  Phil, Si, Willie and Jase on it so A bunch of Robertson's and funny sayings that makes this amazing tape even better.
Just imagine what you can decorate with the Duck Dynasty people on it.
So lets get some tape and it better bet Duck Dynasty Duck Tape.