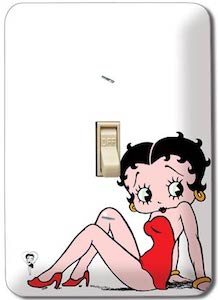 Normal switchplates are boring and plain.
But if you like Betty Boop then you are in luck.
This light switch cover is white and in the right bottom corner there you can find Betty Boop while sitting down in her sexy red dress.
No more boring light switch because now Betty Boop will lighten up the place.
So get a plain switchplate when you can have some thing fun.
Come and order your Betty Boop Relaxing Switchplate.