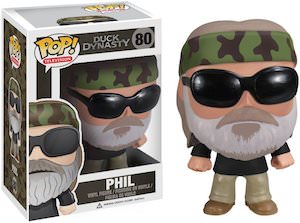 There is Phil Robertson the founder of Duck Commander and this time he is ready to concur the world as a little vinyl figurine.
The Duck Dynasty star is now a 3.75 inch tall figure and yes of course he is wearing something camp and he even has his dark sunglasses and of course his big beard.
Phil Robertson wants to be part of you life. And you can have this Pop! Vinyl figurine of Phil just like that standing on a shelve or maybe you desk or you can keep in the display box so that he stay nice and original.
Come have a closer look at this Duck Dynasty Phil Robertson Figurine.