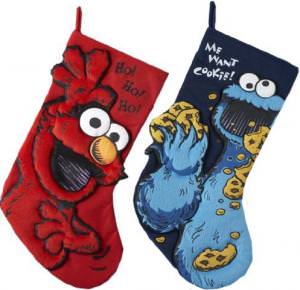 There is nothing Santa likes more than red and fuzzy materials combined with his favorite snack of cookies, so why not put that together and see what you get.
I know one thing would be Elmo and Cookie Monster, the loveable friendly characters from Sesame Street.
This is a set of stockings featuring Elmo on one, with his big eyes, orange nose a fuzzy red fur all on a fuzzy red stocking with him waving and the text " HO! HO! HO!  ".
The second stocking is all blue with Cookie Monster eating cookies and the saying " ME WANT COOKIE ".
Both Sesame Street stockings are made to be very durable and last a long time, they are approximately 17 inches each which is plenty of room to cram in Christmas stocking gifts.
Have a Sesame Street Christmas with the Elmo And Cookie Monster Stocking Set.