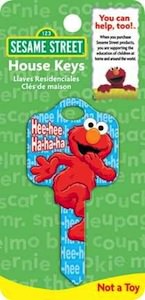 We all know the problem, we have a bunch of keys on our keychain that all look the same but witch one is what?
Maybe this is a good time to make the search for the right key easier.
How you wonder?
It's simple change them for a key you can always recognize.
This key has Elmo on it. This red monster from Sesame Street is printed on a light blue key and he is laughing to.
You can just get this key cut at almost any key cutting place so that it can replace your original boring house key.
And this key fits Schlage SC1 Style locks so you are rest asure that it will work.
Come and have a better look at this Sesame Street Elmo House Key.