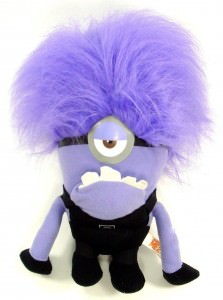 We have all fallen in love with the little yellow Minions seen in the fun animated Despicable Me movies, now we have to deal with some turning evil and purple.
This plush doll is an evil purple Minion that has one eye and goggles on as well as a black overall jump suit and very big crazy purple hair that is sticking up all over the place with teeth also sticking out.
The Despicable Me 2 evil Minion is made from soft plush and stands approximately 10 inches tall, it is perfect to add to your Despicable Me Minion collection for sure.
Collect and play with this Despicable Me 2 Evil One Eyed Purple Minion Plush Doll.