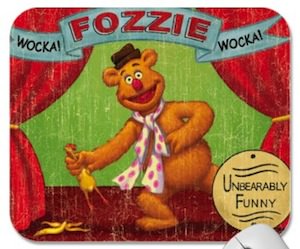 Vintage is the new hip and that is what you see on lots of products.
Like this mousepad, it has a old looking print of Fozzie bear the fun bear from the Muppet Show.
This Muppet likes to entertain and now he is on stage with a plastic chicken and a banana peel and even a lable on the mouspad saying "Unbearably Funny".
Of course this mousepad does not only look good it is good to. It can last you many many years and it's no slip back keeps it in place while you are using the mouse.
Be part of The Muppets with this Fozzie Bear Mousepad.