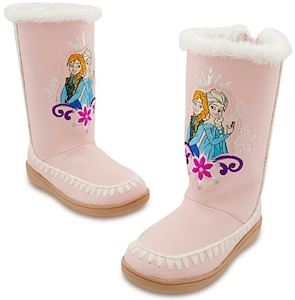 When your world freezes up you want some warm feet.
And luckily there are these boots based on the Disney movie Frozen.
These moccasin style boots are decorated with a nice picture of Anna and Elsa witch is embroidered on the boots.
Kids are gone love these boots with the newest Disney princesses on it.
And these Frozen boots come in sizes 8 – 12 and make a great gift.
Surprise you Disney loving kids with these fun Frozen Anna And Elsa Boots