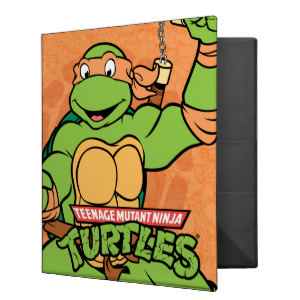 Cowabunga Dude!
Weather you need a binder for school, work or just play this Teenage Mutant Ninja Turtle binder is perfect.
On the front of this binder find the Michelangelo from the cool series of movies and shows The Teenage Mutant Ninja Turtles, Michelangelo is the turtle that wears orange and he is in his battle pose along with the title "Teenage Mutant Ninja Turtles".
This TMNT Michelangelo binder is available in 3 sizes: 1″ Capacity: 175 pages, 1.5″ Capacity: 375 pages, 2″ Capacity: 500 pages. All three are designed for 8.5″ x 11″ sized paper and these binders are also made from durable vinyl with a total of 4 pockets.
Keep all your notes in this awesome Teenage Mutant Ninja Turtles Michelangelo Binder.