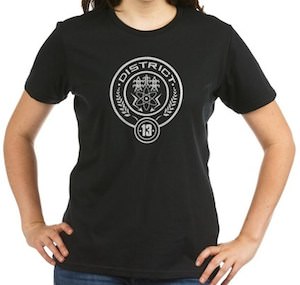 This t-shirt is a great shirt to have for all the girls out there wanting a new The Hunger Games t-shirt.
On this The Hunger Games t-shirt you can see the logo of District 13 complete with the power lines and atom symbol.
You can get this District 13 t-shirt in two colors black and green and both are made from organic cotton and come in women's sizes Small – XL.
Show your support to the uprising agains the capitol and wearing a District 13 t-shirt will do that.
And this The Hunger Games t-shirt is also great to wear to see the latests movie or to hang out with friends.
Come get your own The Hunger Games District 13 T-Shirt.