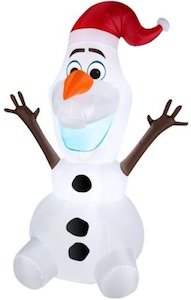 Christmas will be even better if Olaf came to visit.
But you know the real Olaf is probably hanging out with his Frozen friends but no worries you can have a big Olaf in your front yard.
This is a 5 feet tall outdoor inflatable that looks like Olaf and he is even wearing a Santa hat.
Just imagine all the kids walking bye and thinking wow why don't I have Olaf in my yard.
This Olaf inflatable as LED lights inside so that you can also see him when it's dark and yes he comes with tie downs for those stormy days.
Bring Frozen to your home this Christmas with this Disney Frozen Olaf Christmas Outdoor Inflatable.