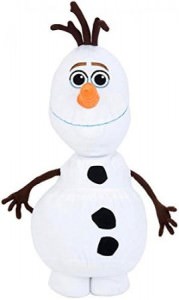 " Do You Want To Build A Snowman", or I should say 'Do You Want To Cuddle A Snowman".
Featured here is a large fun pillow that looks just like the fun snowman character Olaf from the hit animated Disney movie Frozen, find a white pillow in the shape of a snowman with all of Olaf's details like his stick hands and hair, big innocent eyes, carrot nose and nice smile.
This Olaf pillow measures 22 inches x 9 inches x 6 inches, it will be the perfect snuggle partner for the Olaf fan on road trips, at bedtime or watching the fun Disney movie Frozen.
Snuggle up and stay warm with Disney's Frozen Olaf Cuddle Pillow.