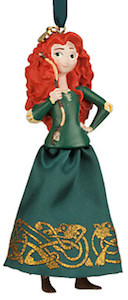 Did you fall in love with the Disney movie Brave? Well, if so and your favorite character was the brave Merida you will love this beautiful Merida Christmas ornament to hang on your tree.
This beautiful Brave Merida tree ornament look just like Merida from the Disney movie Brave with her long flowing red hair wearing a pretty long satin green dress with a glittery gold design around the bottom of her dress.
She stands a brave 5 1/2 inches high and comes with a 2014 Disney logo charm attached.
You will have lots of fun helping decorate the Christmas tree and hanging up this cool Brave Merida Christmas Tree Ornament.