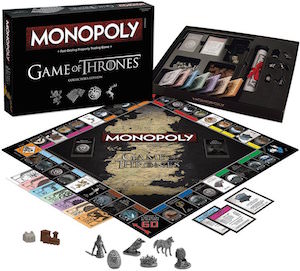 If collecting Monopoly games is your thing then getting this Game of Thrones collectors edition Monopoly is the thing to do.
But even if you just like to play a nice game of Monopoly this could be your game.
The Game of Thrones Monopoly game has not the normal street but all locations from Game of Thrones and even the play pieces are special as they are Dragon Egg, Three-Eyed Raven, White Walker, Direwolf, Crown and The Iron Throne.
And even the hotels and houses look different the hotels became villages and both have a special look to them.
Game of Thrones fan that like to play games just have to check out this Game of Thrones Collectors Edition Monopoly.