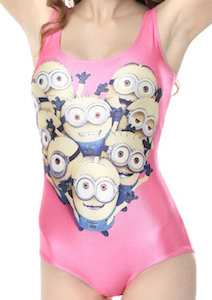 If you like pink and Minions then a day to the beach will be so much more fun when you wear this Minion swimsuit.
This is a one piece bathing suit for the women that are crazy about Minions because they are crazy about you to.
The swimsuit is pink but in a heart shape there are a bunch of really happy Minions just to show the love they have for you. And the pictures is not just on the front, it's on the back to.
Pool or beach Despicable Me fans will notice this amazing looking Pink Minion Bathing Suit.