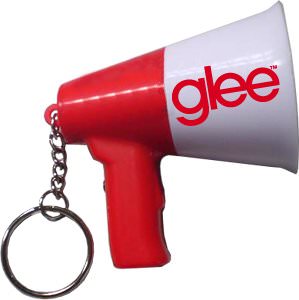 This is the famous megaphone that Sue Sylvester uses in Glee but then just a little bit smaller.
You can hang this Glee key chain on all kind of things like your backpack, jacket and of course your keys.
And the nice thing of this key chain is that it talks it make Sue Sylvester say some of her famous lines like:
We're dealing with children… They need to be terrified.
You think this is hard?! Try be waterboarded, THAT'S hard!
I'm going to ask you to smell your armpits. That's the smell of failure, and it's stinking up my office.
Face it, you wanna be me.
Yes I can see that you already can imagine the fun you are gone have with this key chain.
So wait no longer and go get your own Glee Talking Megaphone Key Chain.