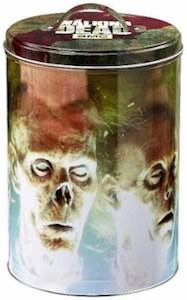 If you have been watching The Walking Dead for a while now then you know all about those aquariums full of floating heads that the Governor had.
Now there is a metal cookie jar that shows those floating heads. So if you want to stay away from those cookies then maybe this Walking Dead cookie jar is the way to go.
The whole side of the round cookie tin is covered with this scary looking faces and on the top there you find a handle and the logo of AMC The Walking Dead.
The cookie jar is about 8.5 x 6 inch and is an officially licensed product.
If eating cookies is a passion you want to give up on then maybe you should come get your own The Walking Dead Governor's Floating Heads Cookie Jar.