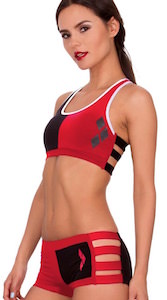 OK you are a fan of Batman but feel more like a sexy villain your self then maybe this women's underwear is just what you need.
This underwear set is themed around Harley Quinn. The bra and panties are red and black with the diamond pattern we know from Harley Quinn's costume and to make it all just a little bit sexier they even added straps on the side that shows your skin in between.
You can get this Harley Quinn underwear in women's sizes Small, Medium and Large and it will be our naughty secret as nobody knows that you wear Batman villain underwear.
You may also like: